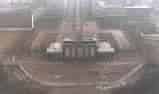 My life in West Berlin in the 1980's
We start out by showing you photos taken from a helicopter flying over (then) West Berlin, showing the city as it rarely is ever seen. Views of the wall at various locations, famous landmarks and monuments, and famous buildings as they were in 1981-84, with a short story of their history.
Scroll to the bottom and click on the arrow to start.