Dr. Lester Gideon & Associates, A History of
---
This is a short history of the Dr. Lester Gideon & Associates in Lompoc, U.S.A..
1. The first activity of the Dr. Lester Gideon & Associates came about in 1959. At that time, Lester Gideon organized the "Lester Gideon - Welder Daniel Theatrical Enterprises, Inc.," a non-profit educational corporation, with corporate headquarters in Downey, California. Welder Daniel was a well known theatrical instructor who not only taught courses, but was the director of many stage plays. Lester Gideon was the producer of these and several USO groups that toured military bases in Southern California. Lester also produced and narrated a one-hour weekly radio show over KRKD radio in Los Angeles called the "H.H. Harberts (sponsor) Scientific and Engineering Society News." After moving to Lompoc, transferred Civil Service to Vandenberg AFB, in 1967, there was a short lull in activity.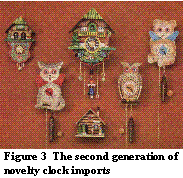 2. The present Dr. Lester Gideon & Associates began just about 1967, with its first operating division, "Import and Export Operations." It all started with the little Grandfathers clock imported from the Black Forest of Germany. We must have imported about 40 that first year and sold them all for $4.10, just twice our landed cost. The next year we imported and sold a series of weighted novelty clocks. Their landed price in Lompoc was $2.55, and we sold about 125 of them at $5.10 each. The third year we imported a line of wall silk framed pictures that had pull strings attached to Rouge musical works. Over the next three years we must have sold about 300 of these. These and other items in subsequent years were sold to friends, and through two drug stores in the L.A. area who put flyers in their billing statements. What started out as a small operation using a lower drawer in my desk at work, expanded to a mini warehouse in my home garage.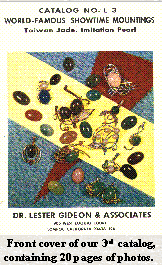 3. By 1971 we had added the "Showtime Mountings Division." Through commercial contacts in Taiwan we learned of a firm making filigree gold and silver plated jewelry items. The line had jade cabochons installed in them. We could not sell the finished jewelry items, but did take over the exclusive distributorship of what we called the "Showtime Line of Filigree Wire Mountings." At first there were about 25 different mountings. Over the next few years we added our own designs and those by request of customers, until there were about 400 in the line. We sold these through jewelry supply sources, our own catalogs, and direct to Rockhounds in the US, Canada and England.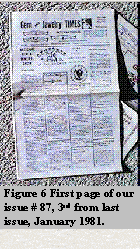 4. In 1972, in order to get more publicity than the regular rockhound magazines gave us, we started to publish a series of periodical newspapers. Our first issue was four pages, tabloid size, 10,000 copies, typed on an IBM Selectric, had but two paid ads plus our own, had some stories of general interest to rockhounds, and was mailed in bundles of about 50 to over 175 rockhound clubs through out California, the Northwest and as far east as Montana, Utah and New Mexico. The Lompoc Record did the actual press run, first in their temporary location on I Street and then in their new location on H Street. The second issue had 8 pages and about 12 advertisers. A new operating division was organized called "The TIMES Publications Division." It really grew. It became transformed from a 'one man' operation to a 'family operation.' My older son, Jerry, Gideon, BA, MA, PhD came aboard in the editorial area. John Gideon (now semi-retired in the Palm Springs area) took over circulation and offset printing. Judi Gideon, BA, MA assisted in circulation. Lester also hired a student from Lompoc High for a year under the work education program. From our home, first to the old Lompoc Record building on Ocean (now torn down), then to the 900 block on East Ocean, to the La Purisima Building where we had four rooms on the second floor, and finally to 115 West Ocean where we had about 2000 square foot of space. There we had Flexowriters, graphics cameras, composing IBM computers, addressing equipment, and three offset presses up to 11x17 inches. We did everything in house except for the press run, which was done at the Lompoc Record. We had a complete mailing operation in house with equipment on loan from the post office. The flagship paper was the "Gem & Jewelry TIMES International" with a circulation all over the world. In addition to the tabloid newspapers that finally grew to 56 pages per issue, we published 16 different booklets at our own expense for promising authors; printed the annual program booklets for the Lompoc Barbershop Quartets; published for six months the tabloid "Vandenberg FCU TIMES"; printed addressed and handled the mailings to about 5000 customers of three different antique dealers in Lompoc and Ventura.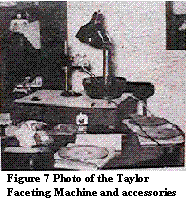 5. In 1978, we added another "The Taylor Faceting Machine Mfg. Co." The founder died and we acquired the name, equipment, and manufacturing rights to the machines. This machine was sold to amateur (and professional) facetors (semi-precious and precious gem cutting, except diamonds).
6. The businesses never did make much of a profit for tax purposes. Nearly everything went out on expenses. Each year, Lester published two special editions to cover the Gem and Jewelry shows in England. Of course, he had to personally deliver them to the Harrogate or London Lapidary & Jewelry show sites, at company expense. On four of these trips he took up to 6 persons with him, After the shows he would escort them to the rockhound collecting sites in England and Scotland, introduce them to VIPs in the Gemological Museum in London and Idar Oberstein, Germany, and to various facilities in Switzerland. Because he needed a delivery system for the papers and to gather news stories, he bought a Cessna 150 aircraft, a 3/4 ton GMC pickup, a camper shell for it, a trailer, and finally a 26 foot fifth wheeler. Every issue of the paper between 1973 and 1981 promoted a different National or Regional Rock Hound Club Show. So, naturally these vehicles were used to transport the 10,000 or more issues of the paper for free distribution to all who attended them.
7. So, how do you stop publishing a newspaper that has a few thousand mail subscribers, and about 100 advertisers? Do as I did! I got married, and accepted an overseas assignment with the U.S. Army in West Berlin for 3 years and in Augsburg, Germany for 2 more. Most of the remaining activities were assumed by my sons, who slowly phased them out. Upon my return to Lompoc and Vandenberg AFB, I had no more interest in any of these activities.
8. Today, the Dr. Lester Gideon & Associates exists as a provider of free service to those who need help in the engineering design of computers and communications equipment. Being retired has let my wife and me travel about the world now. I have been to 121 different countries as of January 2006. I have published small booklets about the most exciting trips. We also have edited and published three books for an author who wrote a diary in English from 1941 to 1945 in Poland, relating the daily events that happened during the war, concentrting on the Warsaw Uprising of 1944. We also published an 88 page booklet for my high school class 50th Anniversary reunion, showing photos of how they looked with a brief resume of what happened to them since graduation. I have purchased as well as assembled 31 computers since 1986, keeping up to date with the latest technology. We now have 5 operating desktops, and one laptop for transit.
9. Finally, I can't believe I wrote all this. But, one final note, I have been with computers since 1946. First in the USN, as Electronic Tech, then in Industry as electrical/electronics engineer, and finally with the USAF and US Army as an electronics engineer. So, for 42 great years from a room full of relays and switches, through analog micro-switch operated guidance systems, through the early radar guidance/tracking/firing systems, to the early digital and tape systems, to the main frames and ultimately the LAN and local PC stand alone systems of 1988, when I retired.
/30/
Use your browser's back or return button to return to the last page.

Last Updated 13 July 2002
Updatged 15 January 2006
by Lester Peter Gideon